IPPOG
Members
Brazil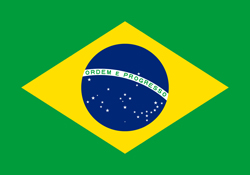 Intro
Brazil is represented in IPPOG by the National Network of High Energy Physics (Rede Nacional de Física de Altas Energias, RENAFAE, in Portuguese), officially created by the Brazilian Ministry of Science and Technology to coordinate the national effort in High Energy Physics. The country has a long tradition in High Energy Physics and its outreach. The event Masterclasses Hands On Particle Physics is applied in the country since 2008 and nowadays more than a 1000 students are reached every year in different institutions spread around the country. By the time Brazil was joining IPPOG, a Working Group was created congregating Particle Physicists and Science Education Experts from different Brazilian institutions around the country to promote particle physics outreach activities and to represent the country in IPPOG. Several initiatives are been developed by this group as the organization of regular meetings to exchange ideas and start new collaborations among the participants. For instance, a project to introduce cosmic ray detectors in elementary schools was born from this group. Given the size and demands of the country, uncountable initiatives and activities can still be created to promote particle physics and scientific knowledge in Brazil.
Details
JOINED: 2016
CURRENT STATUS: MEMBER
O Brasil é representado no IPPOG pela Rede Nacional de Física de Altas Energias (RENAFAE), oficialmente criada pelo Ministério da Ciência e Tecnologia do Brasil para coordenar o esforço nacional em Física de Altas Energias. O país tem uma longa tradição em Física de Altas Energias e sua divulgação. O evento Masterclasses Hands On Particle Physics é aplicado no país desde 2008 e hoje mais de 1000 alunos participam do evento a cada ano em diferentes instituições espalhadas pelo país. Quando o Brasil estava ingressando no IPPOG, foi criado um Grupo de Trabalho reunindo Físicos de Partículas e Especialistas em Educação Científica de diferentes instituições brasileiras de todo o país para promover atividades de divulgação da física de partículas e representar o país no IPPOG. Várias iniciativas são desenvolvidas por este grupo como a organização de reuniões regulares para troca de ideias e para iniciar novas colaborações entre os participantes. Por exemplo, um projeto para introduzir detectores de raios cósmicos nas escolas primárias nasceu deste grupo. Dadas as dimensões e as demandas do país, inúmeras iniciativas e atividades ainda podem ser criadas para promover a física de partículas e o conhecimento científico no Brasil.
JOINED: 2016
CURRENT STATUS: MEMBER
Representative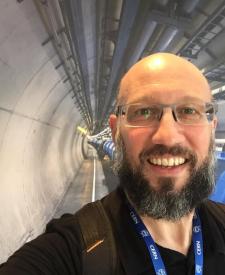 Marcelo G. Munhoz
Instituto de Física da Universidade de São Paulo
São Paulo - SP, Brasil
munhoz@if.usp.br
Marcelo G. Munhoz has a degree in Physics (1992), a Master's Degree (1995) and a PhD in Nuclear Physics by the University of São Paulo (1998). He was hired as a faculty by the same University in 2003 where he became Associate Professor in 2009. He makes research in the area of Nuclear Physics, with emphasis in the study of collisions between relativistic heavy ions and nuclear instrumentation. He has several activities concerning scientific dissemination as well. As member of the Scientific and Technical Committee of the Brazilian Network for High Energy Physics, he has become the Brazilian IPPOG representative in 2017.
Marcelo G. Munhoz possui graduação em Física (1992), mestrado (1995) e doutorado em Física Nuclear pela Universidade de São Paulo (1998). Foi contratado como docente pela mesma Universidade em 2003 onde se tornou Professor Associado em 2009. Faz pesquisas na área de Física Nuclear, com ênfase no estudo de colisões entre íons pesados relativísticos e instrumentação nuclear. Tem várias atividades de divulgação científica. Como membro do Comitê Científico e Técnico da Rede Brasileira de Física de Altas Energias, ele se tornou o representante brasileiro do IPPOG em 2017.